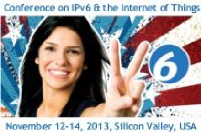 Join us
November 12-14, 2013 in Silicon Valley, California to be part of the movement to IPv6 & the Internet of Things. The California IPv6 Task Force together with GogoNET Live! hosts our fourth annual IPv6 focused conference in the Bay Area.  The conference revolves around networking for IPv6 and the Internet of Things and how the two are intrinsically related. Learn how to IPv6-enable your web services, how to introduce IPv6 into your networks to connect your customers and how IPv6 can be used to connect smart objects within a variety of network types. Whether you want to use IPv6 to connect people or things come join us to learn state of the art networking technology from the experts leading the way.
The high level conference agenda will be:
• Nov. 12: Technical hands-on workshops and tutorials.
• Nov. 13: Keynote presentations and case studies.
• Nov. 14: Functional presentations and product overviews.
** Alert: the website has been updated with the newest agenda and the event looks to be great so register at http://gogonetlive.com and use the discount code SIGv6 – There is also the virtual attendance option – watch live via video stream via the Internet.
Find out more
Find out more at http://gogonetlive.com and get involved in developing the conference agenda or to meet others who will be there by joining the gogoNET LIVE! 4 working group at: http://www.gogo6.com/group/gogonet-live-4-group.
– George and Ed